Prof. Dr. Friederike J.S. Thilo
Profile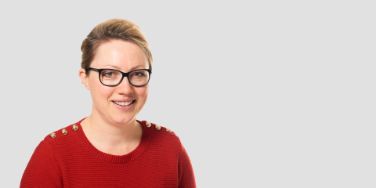 Prof. Dr. Friederike J.S. Thilo Leiterin IF Digitale Gesundheit
Contact hours

Tuesday
Wednesday
Thursday

Address

Berner Fachhochschule
School of Health Professions
Fachbereich Pflege
Stadtbachstrasse 64
3012 Bern
Activities
Researcher aF&E Nursing, Head of Innovations Field Digital Health

Lecturer MSc Nursing, Supervision of MSc Theses
Teaching
Research
Design collaboration man and machine

Digital transformation of healthcare organizations

Technology adoption (use / non-use)

Development, testing and evaluation of technologies in the context of health/disease

Data-based nursing care (artificial intelligence), algorithm development
CV
since 08/2018 Head of Innovations Field Digital Health Bern University of Applied Sciences, Health Division, aR&D Nursing, Switzerland
since 08/2020 Senior Researcher Bern University of Applied Sciences, Health Division, aR&D Nursing, Switzerland
since 09/2017 Lecturer Master of Science in Nursing Bern University of Applied Sciences, Health Division, Switzerland
04/2012 - 07/2018 Research Associate Bern University of Applied Sciences, Health Division, aR&D in Nursing, Switzerland
04/2009 - 03/2012 Research Assistant Bern University of Applied Sciences, Health Division, aR&D in Nursing, Switzerland
09/2013 - 08/2017 Lecturer Bachelor of Science in Nursing Bern University of Applied Sciences, Health Division, Switzerland
11/2003 - 03/2011 Registered Nurse Centre Hospitalier Universitaire Vaudois (CHUV), Switzerland
2014 - 2020 PhD / Dr. Health and Nursing Science Faculty of Health, Medicine and Life Sciences, Maastricht University, The Netherlands
2010 - 2012 Master of Science in Nursing Bern University of Applied Sciences, Switzerland
2006 - 2009 Bachelor of Science in Nursing Bern University of Applied Sciences in collaboration with Zurich University of Applied Sciences (ZHAW) and Eastern Switzerland University of Applied Sciences (OST), Switzerland
2000 - 2003 Nursing Diploma Vocational School for Health Care and Nursing, Stauferklinikum Schwäbisch Gmünd, Germany
Projects
CuraComm - Zukünftige Formen der Kommunikation von Gesundheitsproblemen in der Spitex-Pflege (Junior SCholar Programm-BFH transversal)

Digitale Transformation Spitex Bern (Projektleiterin), Konzeptphase Juli-Dezember 2021

Digitale Transformation Spitex Bern (Projektleiterin), Ist- und Sollzustand erfassen und beschreiben, Herbst 2019 - Sommer 2020

Secure Exchange of Protected Date in ehealth - Freier und sicherer Austausch von schützenswerten Daten im eHealth: Identifizierung von Anwendungsfällen in der Gesundheitsversorgung, Projektmitarbeit, 2019

Corona Science Applikationsentwicklung, Projektmitarbeit

Digitale Sitzwache im Akutspital

BFH Zentrum Digital Society

AIDE-MOI I (Co-Principal investigators M. Kucera and S. Hahn) Ambulatory non-
Invasive DEvice - Medical Observation Instrument. Inclusion of elderly in the developement of an wearable fall detection device

EDCNS European Doctoral Conference in Nursing Science: Nursing Science - Shaping tomorrows' healthcare. 16-17 September 2016, Bern, Switzerland. The EDCNS is an international nursing conference organized from PhD students for PhD students

VergissMeinNicht - soziale Teilhabe von älteren Menschen mit personalisierten digitalen Spielen fördern

GordonApp: The development and testing of an electronically assessment
instrument reffered to Gordon linked with NANDA.

Health literacy (Principal investigator S. Hahn): Health literacy screening a psychometric testing [Screening Gesundheitskompetnenz: Psychometrische Testung].

HANNA - technisches Assistenzsystem für Menschen mit Demenz (Principal
investigator M. Sauter)

eMatrix (Principal investigator A. Aeckert) Partizipative Entwicklung einer e-
Health Plattform für die integrierte Gesundheitsversorgung rund um Schwangerschaft, Geburt und Wochenbett.

RESPONS - RESidents Perspectives Of Living in Nursing Homes in
Switzerland (Principal investigator S. Hahn) [Leben im Pflegeheim, die Sicht der
Bewohnerinnen und Bewohnern].

DoKo - Spitex Bern, Erarbeitung Ist- und Sollzustand im Hinblick Digitalisierungsstrategie

ANQ (Principal investigators Ch. Vangelooven, S. Hahn): Falls and Pressure
Ulcer Prevalence in Swiss Acute Care Hospitals: National Scale Quality Assessment [Sturtz und Dekubitusprävalenz in Schweizer Spitälern: Zweite nationale Prävalenzmessung].

Aüp (Principal investigator K. Sommerhalder): Acute and transitional care unit –
implementation and evaluation. [Einführung und Umsetzung einer Akut- und
Übergangspflege].

"Panorama Gesundheitsberufe" (Principal investigator S. Hahn): A project
about the future of health care and health care staff in the Canton of Berne.

Screening Malnutrition (Principal investigator S. Hahn): Screening Malnutrition
in the General Hospital Setting. Promotors and Barriers of knowledge transfer.

Test-BEMW (Principal Investigators: K. Sommerhalder, S. Hahn) Test-BEMW,
testing an instrument for the identification of need of support for assisted living of elderly people. [Test-BEMW, Testung eines Bedarfsabklärungsinstrument für EL-Leistungen für betreutes Wohnen im Alter].
Publications
Awards