Even the best art can have no impact if it does not find the right audience. This is why the HKB Music Division offers with its cluster Music in Context a specialization in artistic Musikvermittlung.
The offerings in this cluster:
are open to all students in the Music Division.
introduce you to the latest methods being used in teaching formats of varying complexity to equip you with skills in the field of Artistic Music Outreach,
enable you to create concert dramaturgies and contexts that appeal to people of all ages and from different social and cultural backgrounds,
convey background information on musicians working with unorthodox approaches,
support you in undertaking collaborative projects involving other arts and non-musical partners, and help you with all aspects of organizing participatory artistic projects – from financing to implementation,
prepare you for a career in freelance music outreach, or to apply for a position in the field of cultural outreach in orchestras or festivals.
Teaching formats
If you would like to gain skills in music outreach (Music in Context) during your studies at HKB, you can choose between the following offerings: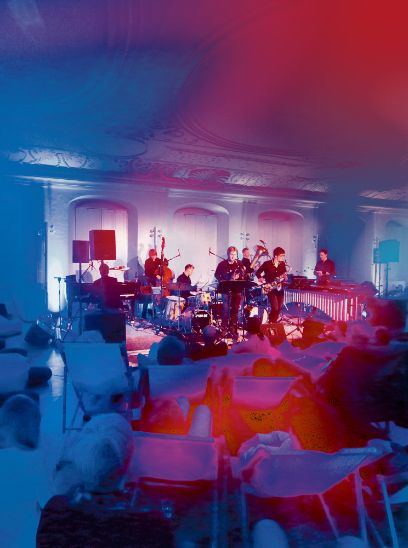 Content
In the specialization Music in Context participants carry out their own performative project that addresses at least one specific group in society. They also plan transdisciplinary experiments and actions and try out concert formats. On national and international excursions they gain deeper insights into best practice in performative Musikvermittlung and organising progressive concert events. For their final project, they freely conceive their own performance, calling on the assistance of two external mentors. In parallel, they draft a business plan for a participatory project.
Director: Barbara Balba Weber
ECTS credits: 20
Structure
Individual lessons: 45' per week (or in blocks)
Group lessons: 5 x 3 hours per semester
Conception and implementation of a specific action of an experimental nature
Research Toolbox for the semester focus
Project management: 2 block days in spring semester and self-study
Optional course: "Salon and cellar concerts" (in autumn semester)
Optional course: "New concert formats" (in spring semester)
Excursions: 2 group and 2 independent excursions
Content
The two-semester minor is suitable for students from all degree programmes in music who are interested in the social and interdisciplinary aspects of music. In private lessons they conceive their own performative project for at least one specific group in society. If desired, this can be combined with other ongoing projects such as a master's thesis or the founding of an ensemble. There is also an opportunity to take part in national and international excursions. The final project is to draft a concept for a project that can potentially be sold to festivals, concert promoters and/or various other institutions or can be carried out independently.

Director: Barbara Balba Weber
ECTS credits: 20
Structure
Individual lessons: 45' per week (or in blocks)
Group lessons: 5 x 3 hours per semester
Conception and implementation of a specific action of an experimental nature
Research Toolbox for the semester focus
Project management: 2 block days in spring semester and self-study
Optional course: "Salon and cellar concerts" (in autumn semester)
Optional course: "New concert formats" (in spring semester)
Group or independent excursion in agreement with the cluster head

Optional courses for students from all divisions: